Boost your Company Profile via Google Places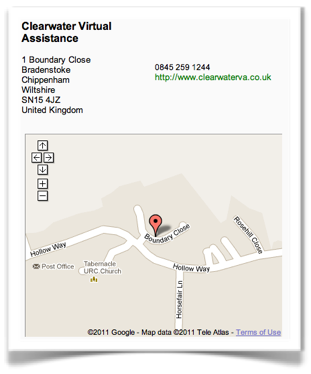 There are many ways that a small business can raise the profile of their company website.  Some will invest both time and money in a Google AdWords campaign, some will employ an external consultant, but the majority will either undertake their own SEO activities or will simply not bother.
One easy way to aid with the promotion of your online presence is by registering your company profile on Google Places.
Registering with Google Places will enable your business to be found on a Google Search and on Google Maps.  Obviously undertaking this activity alone will not bring you to the top of a Google listing but it is just one of the many free activities that should be undertaken.
In order to get started follow these 3 simple steps:
Go to www.google.co.uk/places and either sign in (with you google account) or create a new one.
Click add new business and follow the simple on screen instructions.
Make sure you complete all relevant information, skipping a stage might affect your SEO rating.
TIPS FOR COMPLETING YOUR PROFILE
Descriptions and Categories:
The description area and category boxes should always be completed as Google will use these sections to match your business to prospective client searches.  Always try to be as specific as possible when describing your business activity.
Photos and Videos:
Make sure that you take advantage of the option to include pictures and videos (where relevant) – currently you are allowed 10 photos and 5 videos.  A picture may just be a copy of your company logo but it is still an extra item that can be used as a promotional tool.  If you re-name the images with key descriptions of your business, this will again help to improve SEO.  Finally if you do have video's make good use of them, Google owns YouTube therefore they will help your profile to become further optimised.